Welcome to the English version homepage of the Michael Stiopin Shotokan Karate-Do School (Budokan of Moscow)!



Introduction to the club...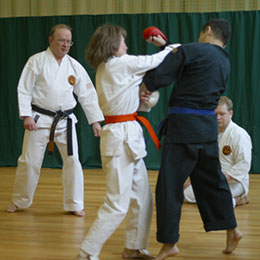 Our Karate School is one of the oldest in Moscow. Our chief Instructor - Michael Stiopin started teaching in 1975. We are devoted to the study of traditional Japanese Shotokan Karate-Do, for self-defense, fitness, art, sport, and fun!
Karate classes for beginners...
If you are interested in joining, but not sure that karate is right for you, come in for free welcome class and see for yourself. No prior martial arts experience is necessary to start training with us! Just show up for class wearing some exercise pants and t-shirt.
Beginner classes are structured for people with little or no karate experience.
Each of our lessons consists of three parts: practice of basic techniques – punching, kicking, blocking and stances (kihon), formal exercises – predetermined combinations of attack and defense techniques (kata), practicing with a partner (kumite).
Classes for advanced karatekas...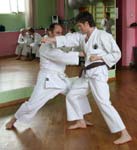 Students with several semesters Shotokan training are invited to join advanced class. We hold promotion exams twice a year - in April and October.
We hold and conduct Shotokan Karate-do seminars and master-classes with invited masters of other martial arts schools.
Both Beginner and Advanced classes with English speaking instructor are from 20:00-22:00 PM on Tuesday and Thursday; 9:00-11:00 AM on Saturday.
It is not required that you bring special karate costume (karate gi) for your welcome class. Karate gi can be purchased later if you decide to join the club. Wearing watches, bracelets, and other jewelry is prohibited during classes. You might leave all this hardware at home or use lockers at the Sport Center.
Men's and Women's locker rooms are available for changing at the Fitness Center '5 Star'.
We use monthly billings: 5000 rbl per month (2 classes per week). Testing is free for club members.
Wednesday, Saturday: Fitness Center '5 Star' Aviamotornaya, 40.
How to get there. The nearest metro station - Aviamotornaya (Авиамоторная) on the yellow line. From there about 15 minutes on foot. Going by car you should use Yauza embarkment.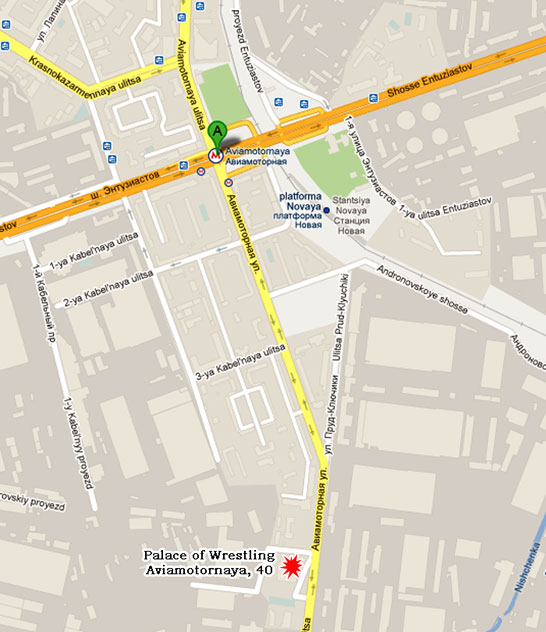 If you have any questions, please e-mail us at mosbudokan@yandex.ru.
or call: (495) 225 4514 (ask for English speaking administrator)
or use English thred of our FORUM